There are as many canned tuna types available as there are different tastes, but not all of them have the Dolphin Safe certification. Far from being just another stamp, this round label depicting a merry dolphin within marks certain tuna cans, indicating the fish has been caught respecting dolphins' wellbeing and their natural habitat. Sustainability is one of the maxims that guide Palacio de Oriente's work, as is the road to reaching both the survival of marine species and the fishing industry. The Dolphin Safe certification ensures it.
What can you expect from the Dolphin Safe seal?
Knowing where the raw material comes from is the first step towards achieving products with a unique quality that makes them extraordinary. That is why it is paramount to know that the tuna species that arrive at your table inside a can have been caught while protecting the environment where other marine species live as well, such as dolphins, the stars of the Dolphin Safe seal. This respect for marine creatures aside, we offer you six reasons to include tuna with the Dolphin Safe label into your shopping list.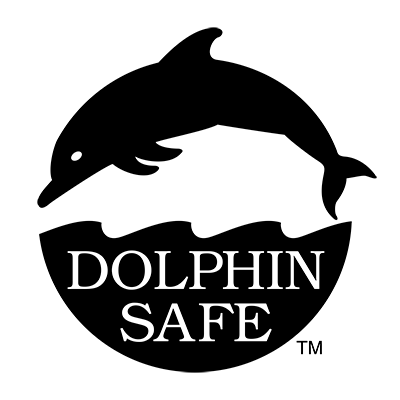 1. Safeguarding the fishing industry
Many hands work tirelessly to bring the products of the sea to your kitchen, providing all their benefits as well as their unmistakable flavor. According to a report on Fisheries and Aquaculture in United States carried out by OECD in January 2021, states that the fishing industry accounts for 169,950 jobs in that country.
2. Preserving marine wildlife
Seas and oceans, as well as being home to many species, also serve as pantries, providing us with irreplaceable delicacies. Buying canned tuna with the Dolphin Safe seal is a way to prevent over-exploitation situations that can endanger the biological balance of the marine environment.
3. Greater awareness of the food demand
People are increasingly aware of the need to protect our waters, a situation that translates into a growing demand for canned food that prioritizes sustainability and good quality. The consumers have undertaken a more active role in their nutrition and they are now more informed that ever. This is why consumers look for products that have all the quality certifications, such as the ones that endorse Palacio de Oriente's canned fish and seafood.
4. Supporting best practices in the fishing industry
In the EU, Dolphin Safe tuna fishing is regulated by the Decision 2005/938/EC, which approved the Agreement in the International Dolphin Conservation Programme. This tracks and verifies captured tuna, carrying out an exhaustive monitoring and control procedure, as well as following disembarking, unloading and trans-shipping of these tuna specimens in European ports and waters.
5. Minimizing bycatching or accidental fishing
The Dolphin Safe logo ensures the tuna supply comes from ships that use "non-entangling" FADs (Fish Aggregating Device) in order to minimize bycatching or accidental fishing. This way, fishing vessels can avoid the risk of capturing non-target species that are not required by their fishery, which would otherwise end up being caught if other techniques were used instead.
6. Responsible fishing in PVR-registered vessels
The Dolphin Safe seal also attest to a firm commitment: only stock up with tuna species that were caught by ships that appear in the ProActive Vessel Register (PVR), regulated by the ISSF (International Seafood Sustainability Foundation). This means consumers have access to tuna, alongside verified information about the active measures each vessel is implementing to meet these requirements.
Palacio de Oriente and their Dolphin Safe canned goods
Palacio de Oriente's canned tuna products proudly display the dolphin and the smile depicted in the label attached to their tuna, albacore and yellowfin tuna boxes. Moreover, they offer the tastiness and flavor of the best raw materials, such as our albacore in extra virgin olive oil.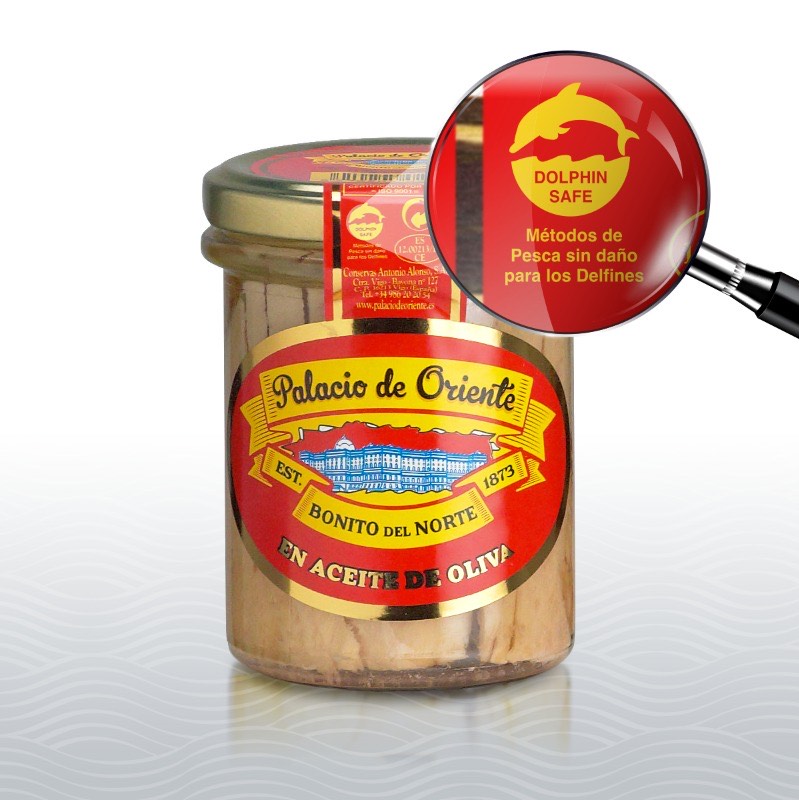 At Palacio de Oriente we are strong supporters of sustainability. We respect the sea and favor the use of selective fishing techniques to catch the tuna species that we offer in our canned products.
At our online store you have a broad catalog of canned tuna species, all of them sporting the Dolphin Safe label. Now is the time to please your palate with the best that the sea can offer; it is the perfect excuse to place some value on the respect for our origins and for the great cannery masters.