The wildcard that is never missing in a pantry. The preferred choice of foodies who love to snack with friends, the favorite choice of students who want to prepare something tasty and healthy quickly. The perfect supplement for athletes and the ideal solution for a quick dinner that will please the whole family. We are talking about canned tuna in all its varieties (albacore, yellowfin tuna and skipjack tuna). It is not only a practical food, the nutritional value of canned tuna, when it comes to taking care of our health, includes an extensive list that we will discuss today in this article.
Nutritional value of canned tuna
Tuna stands out nutritionally for its high protein and omega-3 fatty acid content. We can benefit from its properties whether we eat it fresh or canned:
On a cardiovascular level. Oily fish is recommended to balance cholesterol and triglyceride levels: it boosts good cholesterol (HDL) and keeps bad cholesterol (LDL) at bay. Consequently, it prevents blood clots and stimulates blood circulation.
An ally to maintain our weight. A portion of canned tuna satiates us without caloric excess. It is a great source of proteins (more than 25 % of the product contains them) and the proportion of fats can be controlled by choosing the most adequate recipes.
A safe meal in case of allergies and intolerances. Canned tuna does not contain traces of nuts, gluten, dairy products or eggs, which are the main causes of immune reactions to foodstuffs. The only people who should be careful are those allergic to fish.
A source of vitamins and minerals. Tuna contains vitamins B –with a high concentration of vitamin B12–, A and D. It also provides iron, phosphorus and magnesium.
Properties of canned tuna in olive oil
The use of olive oil as a covering liquid reinforces the properties of canned tuna. This addition of monounsaturated fats in the form of liquid gold is an addition that protects the health of our heart. Therefore, to all the benefits listed above in the case of canned tuna in olive oil, we must add all the qualities of this oil, a great meal to fight against diabetes and hypertension. Also, if you are concerned about the latter pathology, there are low-salt options that help reduce blood pressure.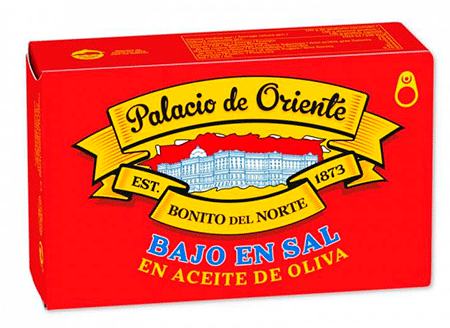 The presentation of canned tuna with olive oil is very convenient when preparing salads, sauces and other recipes in which this fat is required for dressing, frying or emulsifying. Using the olive oil from the can adds an intense flavor to the dish.
In addition, with Palacio de Oriente you can be sure that the olive oil used in our albacore and tuna cans is of the highest quality. Have you tried our MSC albacore in organic extra virgin olive oil? It was extracted from olives of the picual and hojiblanca varieties,grown in farms that do not use synthetic chemicals: a delicacy of great nutritional value!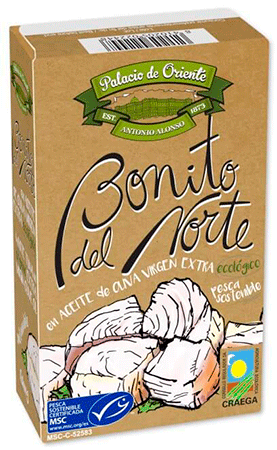 Nutritional properties of canned tuna in brine
Despite its excellent properties, the consumption of canned tuna in olive oil is not recommended for weight loss diets. The alternative is naturally canned tuna, to which only water is added during the canning process. This way, it keeps intact all its nutritional benefits and a genuine flavor without additives. Find out for yourself with our albacore in brine.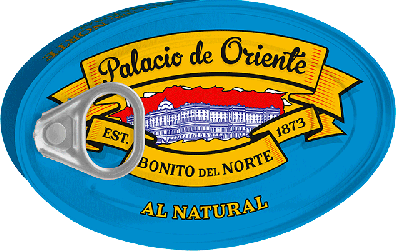 According to the Spanish Food Composition Database (BEDCA), canned tuna in olive oil provides around 40-50 % more calories than food preserved in its natural state.
Is it good to eat canned tuna every day?
The basis of a balanced diet is variety. Therefore, eating canned tuna every day would not be an appropriate habit within a responsible diet: the right thing to do is to alternate it with other fish and seafood, fresh and canned, and other products that provide protein, such as meat, eggs and plant-based substitutes such as tofu or seitan.
A reasonable intake frequency of canned tuna would be two or three times a week. At Palacio de Oriente we make it easy for you to never be short on albacore nor tuna at home. Our online canned food store is open from Monday to Sunday 24/7. Place your order and receive it in a few days at home or anywhere in the Iberian peninsula. Most importantly, without any shipping costs!