In the context of canned goods, what is inside the tin is not the only essential part. It is true that in Palacio de Oriente we take great care of the can's content; we insist in using high-quality natural resources, and covering sauces of our own creation. However, we must not forget that our albacore tuna or our mussels could not be kept in perfect condition for years without the container that houses them: the preserve can. Have you ever wondered what these cans are made of? And, why use these materials and not others in their manufacture? Let's find out!
Tinplate and aluminum, basic materials to manufacture preserve cans
The most traditional material for the manufacture of preserve cans is still, as it has been since the 19th century, tinplate. However, since the end of the 20th century, tin shares the spotlight with aluminum, an alternative that has become increasingly popular due to the influence of the carbonated beverage can industry, where it is predominant.
Use of aluminum in the manufacture of preserve cans
Aluminum is a versatile material, safe and sustainable. Hermetically-sealed aluminum containers remain unaltered through time, as well as their content, after it undergoes a sterilizing process. Besides the properties we have already mentioned, we should add that aluminum is an opaque metal: light cannot get through, which is essential when preserving food. This is an advantage over glass containers, which are used rarely now in the context of preserving goods from the sea.
There are other reasons to foster the use of aluminum:
It reduces the effort of opening the preserve can. The difference can be perceived even in containers with an 'easy-open' ring: peeling off an aluminum cover requires less strength than pulling a tin one.
It has a direct recycling process. It is not necessary to separate its components and it can be recovered and reused infinitely.
It is lighter than tin. It is malleable when it's in thinner plates, which makes saving costs easier, as well as transport and storage.
Aluminum has a high recycling rate, according to the report The Aluminum Can Advantage: Sustainability Key Performance Indicators (December 2020) by The Aluminum Association and the Can Manufacturers Institute. In the United States, consumers dispose of more than 46 % of this type of packaging in specific garbage containers.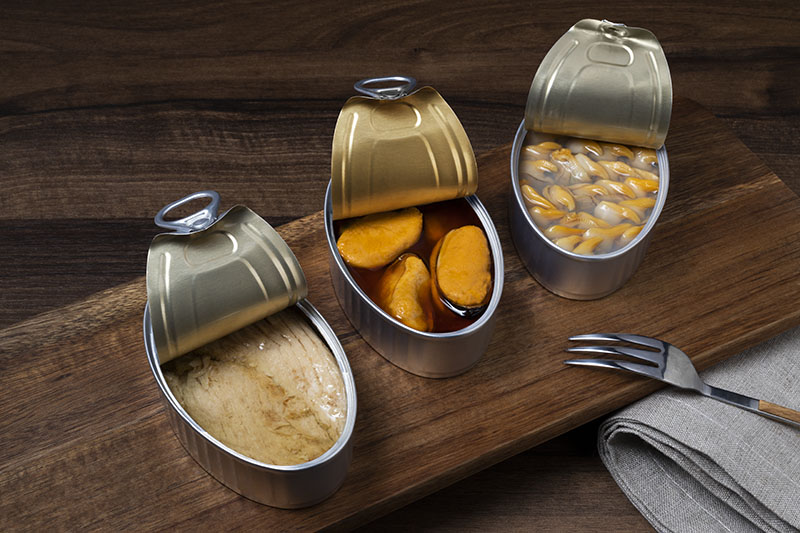 Features and advantages of tinplate in the canning industry
Tinplate has similar advantages to aluminum in the manufacture of preserve cans. The material used in cans is born from the combination of steel and tin: it is obtained covering very thin sheets of steel with a layer of tin. Steel is an extremely strong, durable and malleable metal, while tin works to protect against oxidation. To guarantee it is safe for the human body, there are regulations that establish a maximum amount of inorganic tin allowed in the composition of tinplate for preserve cans, as the Aesan (the Spanish Agency for Food Safety and Nutrition) reminds us.
Tinplate is also respectful with the environment. According to the Asociación Ecológica para el Reciclado de la Hojalata (Ecoacero), a Spanish body dedicated to recycling tinplate, steel is the most recycled material in the world, and all tinplate containers end up being recycled in the steelmaking industry.
Most common formats in the manufacture of preserve cans
Whether tinplate or aluminum, preserve cans are manufactured with two-piece structures (container and lid), or three-piece structures (inner plate, body and lid). Due to their practicality, the most popular formats for seafood and fish preserve cans are:
In every case, food safety and practicality towards the consumer are prioritized, and as an added advantage, aluminum allows for more attractive and versatile designs. Because the happy experience brought by Palacio de Oriente's canned goods is not only founded on flavor, but also on presentation. And you? Which one of our cans do you like best?